Thanks for stopping by for Sis Boom's Holiday Tour. I sewed up four completely reversible Betsey Aprons for my grandmother, mom, myself and daughter! It was such a blessing that four generations of my family were able to get together to celebrate Thanksgiving this year. Sis Boom has also generously given Troops To Tots a copy of the Betsy Apron to giveaway so you can make your own aprons and create some cherished family memories, and just in time if you need a quick christmas gift to sew. The Betsey Apron has you covered as it features 3 sizes (child, misses, and women).
And visit us again tomorrow as I am featuring another Sis Boom pattern, the Ethan Shirt.
My family isn't too big on cooking, we actually ordered our Thanksgiving dinner from the grocery store this year. But for good reason, since it is pretty rare to have so many of us together for a holiday we wanted to spend it enjoying each other's company - not cooking. However we put our aprons to work baking some brownie deliciousness (and heating up dinner!).
This is Little E and her yiayia (my mom). There is a funny story behind how my mom's grandbabies started calling her yiayia (which is Greek for grandmother). Little E and I moved in with my parents when she was 3 months old and stayed for 10 months. My husband was stationed overseas in Japan at the time and my parents took pity on me and let us stay with them so I didn't have to be alone raising a baby, thank goodness for family. Emily didn't say any actual words while we were living with my parents, but that wasn't going to stop my mom from finding some syllable that Little E could say easily (because "grandma" was just going to take too long). Little E's favorite syllable at the time were "blah blah" and so my mom ran with it and found the closest sounding thing to grandma, yiayia. And now all her grandbabies call her yiayia! It has led to some funny encounters when those who speak Greek hear Little E call my mom yiayia and naturally they think we speak Greek. This usually requires some explaining.
This is my grandmother and me in our aprons. I don't get to see her as often as I would like as she lives in Idaho and I live in New Jersey. Putting it mildly, I was ecstatic when I found out she would be flying to Texas so we could have a small family reunion. Don't we look so festive in our aprons!!
I decided to break a rule and let Little E have some brownie batter. Does anyone else feel like they've been hit in head when they see a photo of their child. This one hit me like a train, she just won't stop growing and she doesn't look like the little girl that I see in my head.
In the midst of our photo shoot we were also "cooking" Thanksgiving dinner. My poor mother wanted to keep wiping her hands on her apron while she was cooking, she had to keep reminding herself not to.
After stuffing ourselves crazy with Thanksgiving dinner we decorated our brownie Christmas trees, still looking festive in our aprons.
It was such a wonderful thing to have been able to do this, and to give something to my grandmother and mom - something I had made for them.
When designing the aprons I decided to make them completely reversible. As drafted the waistband and ties are the same fabric on both sides. However I wanted to have Christmas themed on one side and a rest of the year fabric on the other side. If you want to do the same thing it was an extremely easy hack - just divide the waistband and ties measurements in half (lengthwise) then add seam allowances to one side of each. When cutting out the fabric remember that you will now need to cut out double of everything. Than sew the pieces together so you end up with the end size of the waistband and ties. Also consider what color binding you will use for the apron since it will be seen on both sides.
Here's our apron combinations: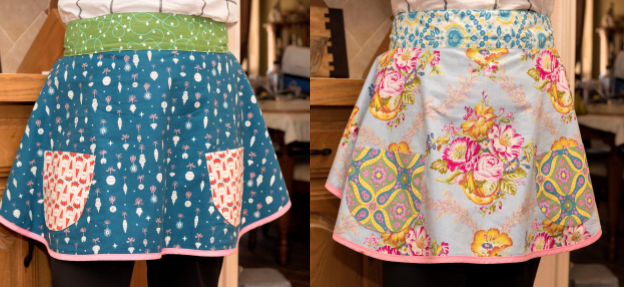 Thanks for stopping by and I hoped you enjoyed a little festive brownie making! If you would like to enter to win a copy of the Betsey Apron click on the link below:
They are also many wonderful bloggers creating some festive makes for this Holiday Tour.
Ms. Podge

made a gorgeous

Patricia Tunic

that she took overseas, and made a matching tunic for her daughter using the

Sophie pattern.
Amy over at Anna's Heirloom used a vintage pillowcase to create a one-of-a-kind dress for her daughter using the Gabriella Fae pattern.
Kelly of Handmade Boy sewed up the Ethan and Marco Shirt for her boys. Her attention to detail is just amazing - plus that triangle fabric is just calling my name!
M from Flying by the Seam of My Pants had an interesting attempt at making the Judy Pants.
Shanna of Sparrow in Flight sewed up 5 garments for her daughter, each one for a special day.
Becca of Sunflower Seams and one of my favorite people sewed up a gorgeous Marissa. I just love her fabric choices, and that elegant Christmas tree!
Amy of a Crazy Craft Lady made an embellished Leighanna, using a girl's favorite pompoms to add some festive energy to her creation. She also has the cutest chronicle of the Leighanna's she's made her daughter over the years!! The giveaway is still open, it's a rafflecopter link, look right above the chronicle photos.
Lisa from Glitter in My Coffee sewed up the Gabriella Fae using a very fun Christmas print. And the dress even made an appearance on the stage! The giveaway for this pattern is still open too.
And don't forget to check back tomorrow for the
Ethan shirt
and on the 19th to see what
Cookies n Bees
sewed up.