Yesterday we kicked off our blog tour to help spread the word about the auction myself and several other people are putting together to raise money for the
American Childhood Cancer Organization
, you can read it
here
. Please join our
Facebook group
and see what we have available, and more items are being added! Our auction will be held from October 27th - 28th. Today I wanted to share the items that I personally made for the auction!
Blog Tour for "
Go Gold©
" Auction
Benefiting the American Childhood Cancer Organization
Giveaway is $20 gift certificate to
PhatQuarters
and pattern stash
GO GOLD® is the registered trademark of the American Childhood Cancer Organization
Up first, I sewed up one of my favorite patterns by Oliver & S, the
Sailboat Top
. I have made several of these and it is my got-to pattern when making my son "nice" shirts. You can see my son looking extra adorable in his Sailboat top
here
and
here
! With the shirt that I designed for this auction I chose to add a sailboat applique, and even went a little crazy using a new stitch when sewing it on.
Along with the applique, I used a hemstitch needle to create a decorative stitch when attaching the facings. I'm in love with how it turned out, and am so glad I didn't make this in my son's size, because I probably would have kept it :) Sidenote: if you love Oliver & S as much as I do, check back with us on October 26th when Karly from
Paisley Roots
is giving as a copy of Liesel Gibson's new book "
Building Block Dress
"
Up next are two leopard skirts I made using one of our sponsors' patterns. Molly Goodall generously donated five copies of her book "
Wild Things
", which has 15 animal themed garments. I first fell in love with this book when I saw the
bunny coat
, and this coat is seriously the most worn coat in my house. These skirts were so much fun to sew, and my daughter was extremely thrilled when I messed one up enough (tiny tiny hole) that I gave it to her instead of auctioning it. If you would like a chance to win one of the copies of this book, head over to
Essence's
blog to enter!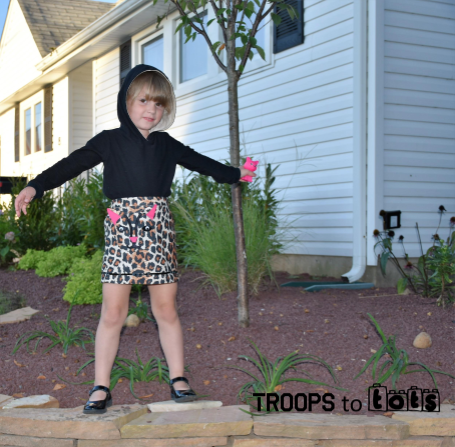 Next (did I mention I did a lot of sewing for this auction!) I teamed with Joan from
Eudacide
to make a gift perfect for any new parent or grandparent! We made a two-piece diaper bag kit. Joan made a gorgeous tote bag (along with donating that fantastic fabric), while I made a diaper bag insert using a pattern from "
Little One Yard Wonders
".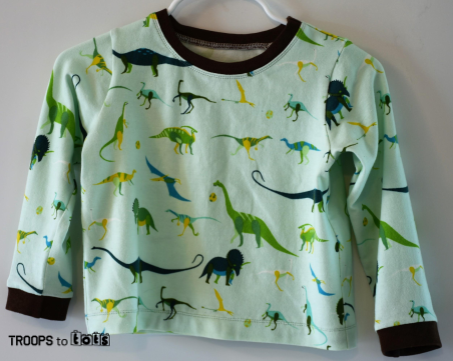 And lastly I made some tags that are very useful in my house. We use them to label water bottles, lunch bags, or anything else that needs to be easily identified. I made this pattern myself and I wrote a post on how to make your own
here
. The tags are made out of the same material used for cloth diapers, which makes them super easy to wipe clean.