Continuing with the monthly challenge of sewing one Japanese pattern a month I decided to make the "Coat Dress" from book "
Linen, Wool, Cotton Kids
" by Akiko Mano. I've be participating in
Mie's challenge
since February (I think). With the project that I had planned for this month, it was nice to be able to see what others had made with this pattern, I don't usually have that luxury with Japanese patterns.
Sew Shelly Sew
created a beautiful red buffalo print version, Rachel from
Making The Toss
has the cutest photo of her creation, and lastly Sanae from
Sanae Ishida
made a wonderful coat out of boucle wool. She also has an awesome post about the many creations she made using "Linen, Wool, Cotton Kids" that can be seen
here
. With all these inspiring coat dresses to stir my imagination I really enjoyed the process of creating something I would love.
With this garment I wanted to use embellishments and I finally decided on a lace with velvet ribbon weaved through the holes. For fabric I used a wool suiting that I had purchased this past Christmas for my son and two nephews for their Christmas outfits. Somehow I miscalculated the yardage needed and ended up with a lot of leftover fabric, but upside is that it is such a nice fabric that I enjoy sewing with.
One of the major design changes I made to the pattern was to line the coat. As written this coat does not have a lining but rather a few facings, and I've never drafted my own lining that incorporated facings too. It was a little interesting and I learned a lot, like the fact that the lining attaches to the facing and not the jacket, sew and learn!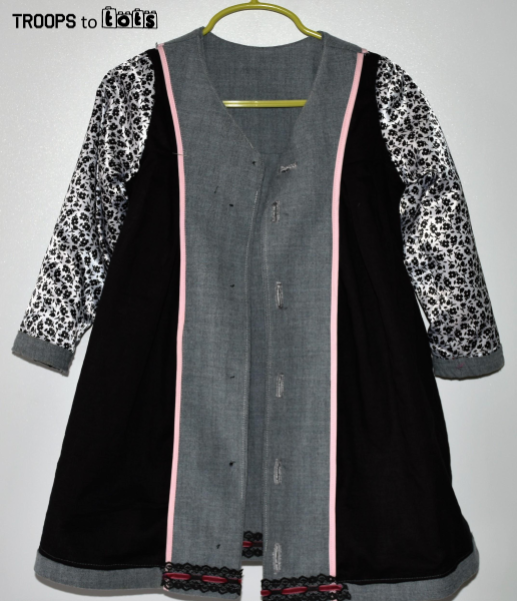 The instructions for the coat are minimal, but for me they were enough - which was a great feeling. One of the larger errors I made was to accidentally sew the pleats on one side of the front in the wrong direction, but the sew fairies were looking out for me. When I ordered the lace and ribbon I saw a pin that coordinated well with the design of the jacket, well the lovely pin is quite large, but it hides the direction of pleats so this pin was an awesome addition to the coat. I didn't even notice the pleats were going the wrong direction until after I was looking at pictures of the completed coat - so I don't think anyone else is going to notice either.
Other than that this coat was a joy to make and my daughter calls it her princess coat (because the pin has a diamond on it). I took Little E out to the local gardens to get some pictures of her "Princess Coat Dress", she was a good trooper. It was about 85 degrees with some humidity - so not the more pleasant weather to be wearing a coat!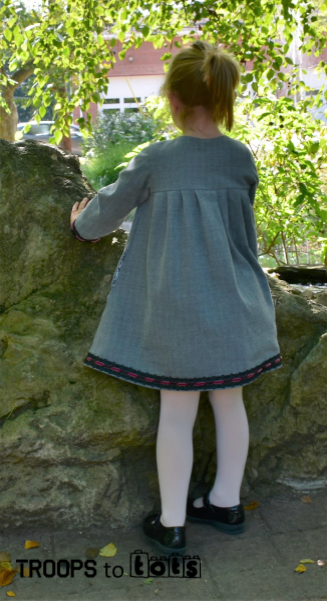 And lastly a picture of Little E with one of her favorite friends, Miss R!
Thanks for reading this post!