In my house we are about to send our first child off to school this year, albeit preschool but still she'll be somewhere else besides at home with me. Little E is extremely excited for the next chapter of her life, and I am too - but also a little sad.
In preparation for her going to school I've slowly been working on her school clothes all summer. In the midst of all this Jeanine from
Sis Boom
offered me the opportunity to join their blog tour featuring Sis Boom's patterns and to
GIVEAWAY
a free pattern of theirs on our blog. Sis Boom is also having a sale on their patterns in their Etsy shop, 40% off with code BACK2SCHOOL, I have a few of their patterns on my wish list so I'm super excited! On top of all this they opened up a Facebook Album for you to post your makes with Sis Boom Co Patterns for a chance to win a free pattern of your choice.
For my little miss and I, it was a lot of fun going through their patterns, we finally decided on the
Maddie
top/dress. This pattern seems simple, but it is extremely versatile. After I finished making her dress my headed started bursting with ideas of how I could have fun with the pattern. Does that happen to you?
With all these ideas floating around in my head I decided to call in some reinforcements. Luckily my daughter has two friends and more importantly they have two awesome moms! All it took was one mention of a back-to-school photo shoot to mom Elaine and her head was bursting with ideas too! She was my cheerleader through this process, I kept sending her pictures and bouncing ideas off her, it was great having her along for this ride!
With everything working out with the girls, I was able to focus on solidifying my ideas by designing their Maddie tops with each of their personalities in mind.
But first, I want to share how Sis Boom's patterns are different than other PDF patterns I've used in the past. For the Maddie, each pattern piece is cut out individually and then any over-sized pieces are combined by overlapping them with a shaded area with the other pattern pieces.
The way the PDF file is designed you are able to print exactly what size is needed, it's not layered but instead each size is given its own pattern pieces. There is a helpful chart that tells you which pages will need to be printed. The instructions given with the Maddie are really great for a beginner. Lots of pictures and very clear and detailed instructions are given to help put the garment together. In regards to options there are plenty. Numerous lengths are provided for each size, ranging from a crop top to a dress. With the sleeves there is an option to have flutter sleeves or not. Lastly two different methods are given to sew the sleeves (if the flutter option isn't chosen) one for a beginner and a "clean" version given to help push your sewing skills.
The first Maddie I made was Little E's (my daughter). We decided on a fabric that I had used to make myself a
dress
earlier in the summer. I wanted a tunic length for her, something she could wear with leggings plus the added benefit of being able to tuck it into a skirt for a more put together look! I also used the flutter sleeve option.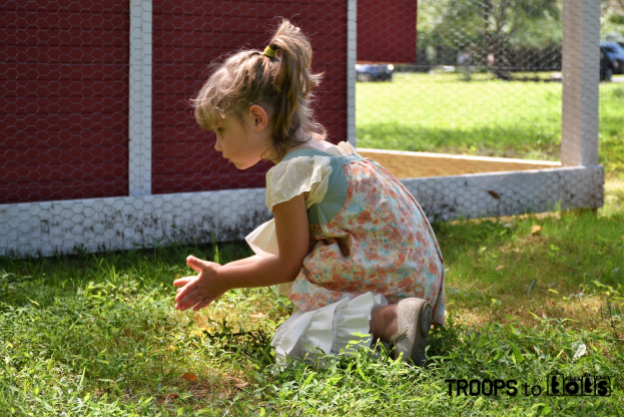 The next shirt I sewed up was for Miss K (Elaine's daughter). Miss K is a sweet shy child, until she gets to know you. I think I have only ever seen her give her mother a hard time once - though I am sure her mother would say otherwise. With this sweetness in mind I wanted to use lace to accent Miss K's top. To accentuate the sage green that I used for the sleeve bands, I drafted an applique using a pocket pattern as my template. I sewed the curved appliques along the sides of the shirt (I really wanted to make patch pockets, but didn't have enough fabric) and trimmed them with lace. To keep with the simple and sweet design of the top I sewed a pair of shorts that were trimmed with the same lace. When sewing the sleeve bands I chose the "clean" method, this results in all the raw edges being hidden. It was a little tricky but I love the result.
For Miss L, the word spunky comes to mind. She is a clever girl with a lot going on in her head. I sewed her a crop top version of the Maddie and to keep everything modest made some high-waisted culottes. I drafted a facing for the hem, something to give the hemline more bulk and structure and then attached the facing to the shirt using a
hemstitch needle
and decorative stitch. Drafting a facing piece is very simple, especially since the hem allowance on the Maddie is very small. I also used Sis Boom's free
Beatrice Bow
pattern, attaching it to the back.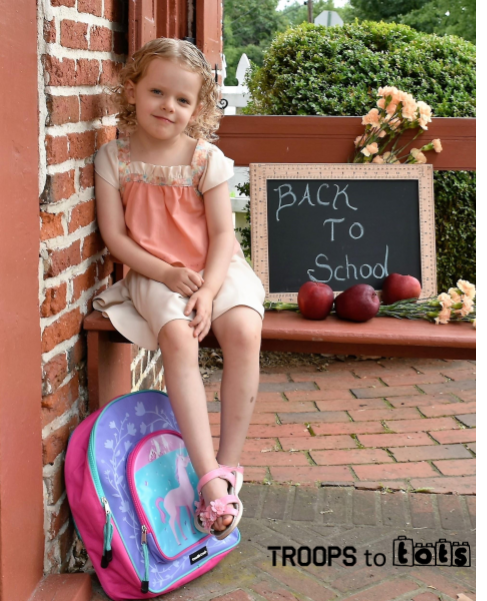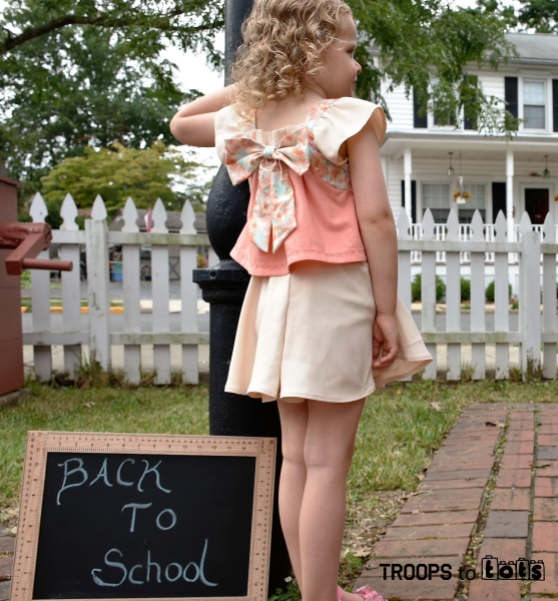 One of the places we took pictures was at the
Clara Barton School House
in Bordentown. Clara Barton created the first free school here in New Jersey, along with founding the American Red Cross several years later. The one room school was perfect for our photos, it had benches, white picket fence, and a lamp post. Coordinating with the
Bordentown Historical Society
was great too, if you are in the area I recommend dropping by. We got a personal tour of the inside of the school and learned a lot about the era, Clara Barton and education.
This was such a fun tour to do. I really enjoyed making the clothes for the three girls and getting them together to take pictures. Even coordinating and discussing the details with the moms was exciting, though getting three little girls who are best friends together made things difficult, all they wanted to do was play! Or it could have been the 90 degree weather with 100% humidity that morning that made things a little hard :)
Thanks to Sis Boom Patterns for providing me with the Maddie pattern and allowing us to join in this awesome blog tour. You can find the Maddie pattern and more here at Sis Boom's Shop! Sis Boom has also provided us with a Maddie Pattern to giveaway to our readers!! Leave us a comment about how you would get creative with your Maddie pattern to enter, we will close the contest on Sept 2 after the blog tour ends!!
There are some awesome sewers with At School and Play Blog Tour, you can check out the bloggers and their dates below! And don't forget to check out
Sis Boom's Facebook Group
.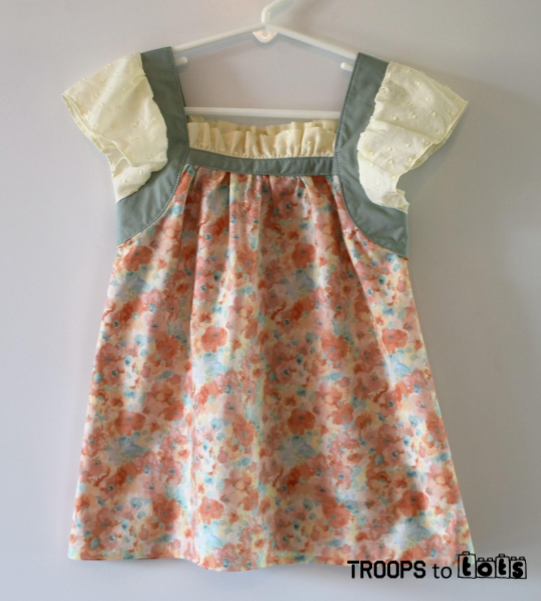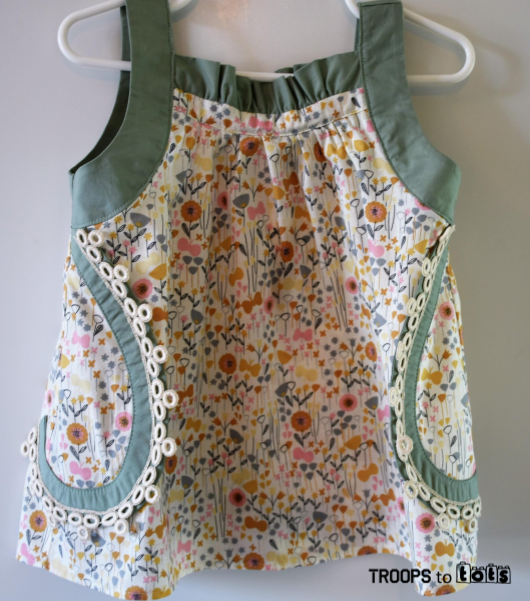 Welcome to the Sis Boom Blog tour!
We are excitied to announce that our bloggers EACH have a pattern giveaway on their posts! Everyday something new; so be sure to follow along with this tour!
August 22 Paisley Roots / August 23 Cookies n' Bees / August 24 Tina Sew Tiny / August 25 Screeching Dinosaur / August 26 PearBerry Lane / August 29 Troosp To Tots / August 30 A Crazy Craft Lady / August 31 Glitter in My Coffee / September 1 Sunflower Seams / September 2 Adventures with Bubba and Bug