I've owned the
Mila Romper
from Violette Field Threads since it was released and have been wanting to make it for just as long. First I bought some cat fabric, but instead made the
Grace Dress
. Than I bought some fabric from Robert Kaufman's London Calling collection, however that got turned into a
sundress
for myself. Finally
Dana Willard's
fabric collection with
Art Gallery Fabrics
was released and my local fabric store had it in stock. It's called "Boardwalk Delight" and that speaks volumes here in New Jersey, summer and boardwalks go hand in hand here.
My daughter loves this romper, though it could have a lot to do with the fact that her favorite food is printed all over this dress, ice cream - so this dress has been dubbed the "Ice Cream Dress".
This romper took some time to sew, probably around 12 hours - with an annoying large portion of it spent turning two very thin, interfaced straps. I think one strap took about an hour and the other around 2 hours. By the second strap I was getting so frustrated I'd work on it for a bit and than work on another part of the dress. Because of these straps I am now going to start looking into how to turn a tube with more ease and less frustration :) The dress also has shirring which is something I've never done before. Luckily that went well enough with no major catastrophes. The instructions are very good, and I didn't get hung up or confused on any step. However, some steps are a little awkward and require slow sewing. Because of that this pattern, or the romper part of this pattern, wouldn't be a good fit for an extreme beginning sewer.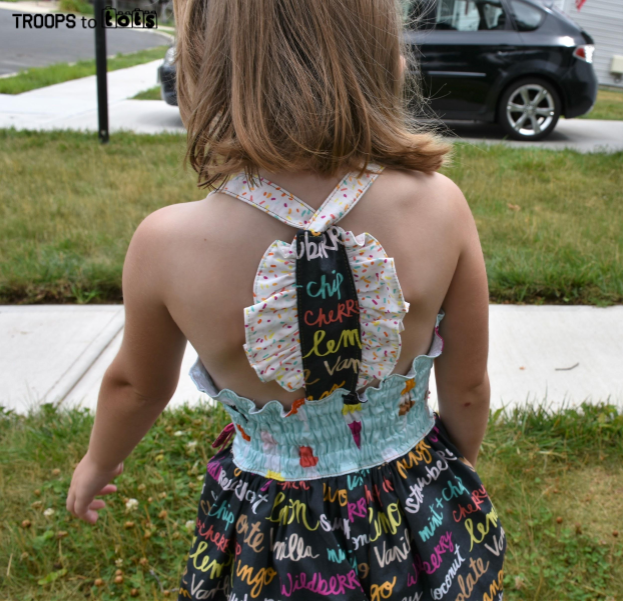 The romper came out fantastic and it is such a happy outfit. We were out walking around town and I could see people looking at Little E and they'd get a grin on their face - I'm going to say it was because of this adorable outfit. I used some gold buttons I had taken off of a sweater and some sparkly pink bows to embellish the front. In foresight I wish I would have added some kind of texture where the bodice meets the shorts, such as piping. The shorts portion of this romper are also fairly short too, with a 2 inch inseam.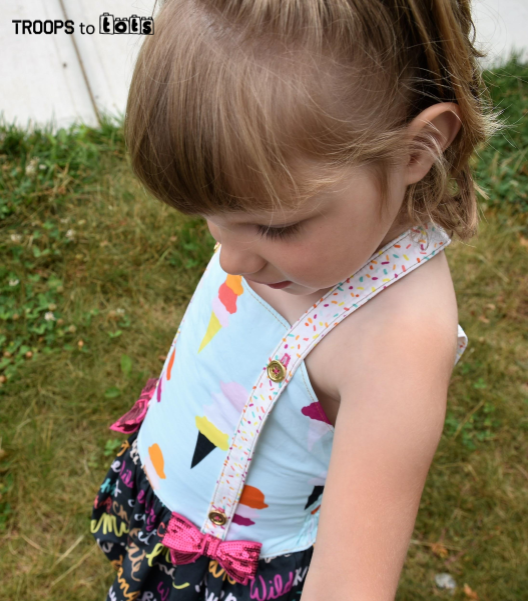 The downside of this romper is that Little E has some troubles with the buttons when she has to use the restroom. The buttonholes are on the smaller side for the buttons which makes it a little more difficult, but if you have an independent little one that is potty trained maybe using snaps or extra large buttons would be more advantageous.
In all this is such a happy, tasty, sparkly summery outfit for my little girl!