I have been having fun joining
Mie
from
Petit a Petit and Family
in her link party,
Sew Japan With Mie
. This month I wanted to make a garment using a Japanese pattern for myself. I chose pattern F1 from
Feminine Wardrobe
by Jinko Matsumoto. I almost considered making the dress I had chosen without doing a toile first. It looked very basic, something easy to alter as I was sewing (even though I have never done that before). Luckily I decided I didn't want to chance wasting the beautiful fabric I had purchased from
Miss Matatabi
. Oh I'm so glad I decided to make a muslin first. Based on my measurements I fit perfectly in the medium size.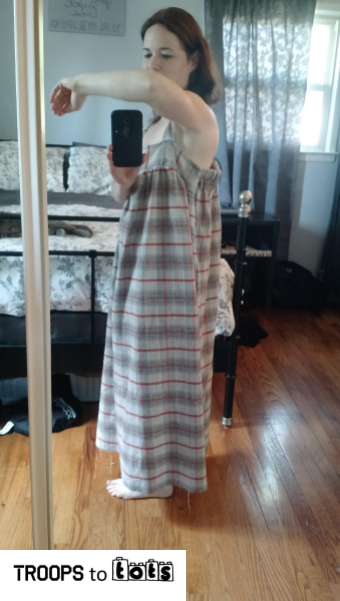 Oh isn't this dress a thing of beauty! My husband gave me the strangest look when I came out of my sewing room wearing that. Needless to say, there is a lot of excess fabric. I decided to see if I could figure out how to alter it to fit better, so I could see if the dress would be something I'd wear.
Up first I pinched the excess fabric out of the middle and took my serger from top to bottom - my thinking is I could measure the cut strip to see how much I would need to remove from the pattern, if I end up making the dress I'll let you know how that turns out! After that I took in the side seams in the same way.
Yeah I know it is hard to get past the fabric choice, but I figured I wouldn't miss it so it was the perfect choice to make a toile :) At least the dress looks less like I raided my maternity bin.
Lastly I cut the bottom and then serged the ends.
So what do you think of the dress? I am still undecided. If I do end up making it I will be adding patch pockets to the front, a mom needs a place to store, well everything. I hope my wonderfully hilarious journey encourages you to test drive a pattern first, before cutting into any special fabric.