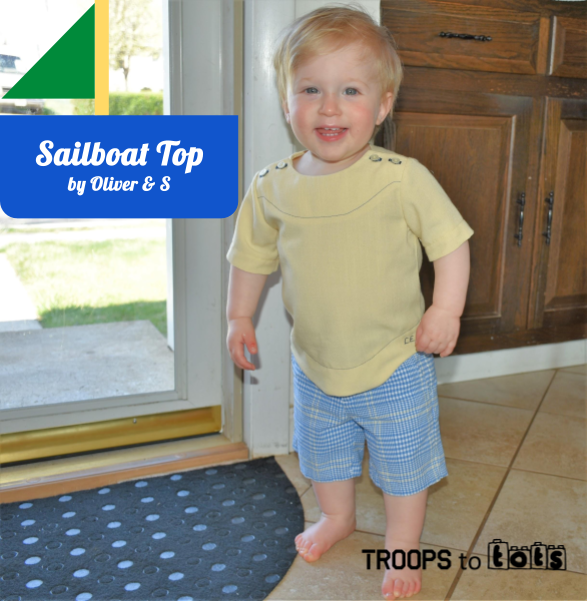 I have noticed that finding boy patterns is a little bit more difficult than girls. I discovered Oliver & S when I was on the hunt for little boy patterns. The pattern I used above is the Sailboat Top and the shorts are from Janie and Jack's sale rack!. The Sailboat Top is also available in a bundle with pants and skirt.
The first and most important thing I learned from
Oliver & S
is what errata means (an error in printing or writing). I was attempting to sew a shorts pattern from the company and the pattern pieces weren't coming together right. I emailed the company and they shared with me that every once in awhile there is an error during printing, and to help customers, they maintain an errata list. If you are buying paper patterns on sale, like me, more than likely they are the old first prints and could possible contain an error. Check the pattern on their website to see if there are any issues before tracing or cutting out the pattern. The error for the shorts ended up being the seam allowance being omitted on a few of the pattern pieces. If I'd checked the website first it would have saved the shorts.
With the Sailboat top the sewing was drama free. I also learned a better construction method for putting buttons on the shoulders! From cut to finish this shirt took about 6 hours. I used a yellow linen with polyester for one, and a gray and white seersucker for the other. For the side seams I used french seams. I also discovered another way of doing french seams by using the serger to sew the first seam. Check out
Sewing Like Mad
, Mie barely hits on this technique but it was enough to get me curious. Also in that post Mie shows how to do french seams for the sleeve head. For pattern alterations, I changed the long sleeves to short. If you want to do the same thing, make sure to add width to the sleeve hem. I thought I added enough, but I found myself short and had to pleat the outer fabric some. This can be seen on some of the pictures below. I also added the little guy's initials to the bottom edge of the shirt for a personal touch.
For the fit, my son is 15 months old and smaller in height and weight than average, however he has the cutest big belly! I made the 12-18 months which fits perfect, but there isn't much room if he goes through a large growth spurt soon.
I immensely recommend this pattern - it is such a great basic shirt pattern for woven fabric. I have made my son two tops and have one planned for my daughter.