With the temperatures rising, one problem I have during this time of year are hot car seats. To help combat this problem I have been using
Mommy's Helpers Car Seat Sun Cover
for four years and love them. It is a simple design and inexpensive. The cover has an elastic trim that makes it a "universal" fit. So far this brand has worked on our Britax's Boulevard, Frontier and B-Safe. It has a band that allows you to roll it up into a small ball so it stays out of the way too.
Because of the elastic trim, putting these on with one hand is fairly simple. Before getting my kid out of the car seat I unwrap the cover and hook it to the top of the car seat.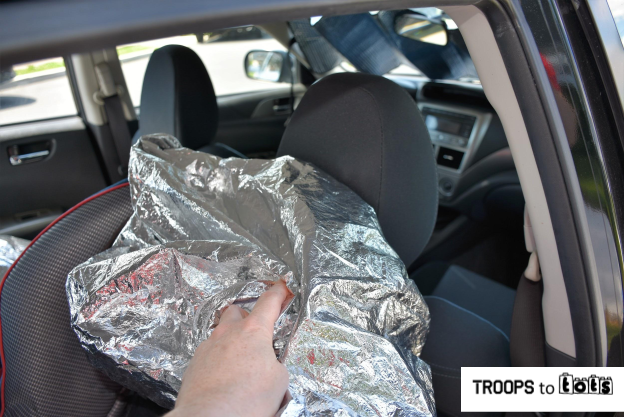 Than I take the kid out and with one hand pull the cover to the bottom, ensuring the sides of the car seat are covered too.
The downside of this sun cover is I usually have to buy a new one every year or two, depending on what my kids do to them in the backseat. The ones in the pictures are now going into their second summer. There are several other brands, and many carseat manufacturers' sell ones specifically for the car seats too. Hope this helps if this is one of your summer woes.