I never thought about making my son his own shoes until
Megan Nielson
wrote a review on a few moccasins patterns. After reading her post I was bitten by the shoe making bug. My son has the fattest little feet, nothing fits him. We finally found a pair of leather moccasins by
Freshly Picked
that didn't leave red marks all over his feet. These little shoes were awesome, until their timely demise. They lasted 4 months of exclusive use - being worn on hikes, concrete, and rocks. Their final straw was when I let the little guy play outside after it had rained - well loved wet leather and concrete don't mix so well. My husband and I had painfully accepted our fate of having to buy these shoes until our son's feet thinned out and could fit into regular shoes. However, after reading Megan's post about making her own I really wanted to try and tackle this project
Through Megan's post I found a pattern by
Peek-A-Boo
. To test out the pattern and my skills I used a flannel from my stash to make the first set. The pattern itself is very easy and worked out great. The flannel muslin didn't last very long (probably 15 mins) since the raw edges weren't finished. But doing a muslin first gave me an idea about fit issues and modifications I would want to make with the next pair.
These are the pattern pieces for the shoes - nothing to be intimated by!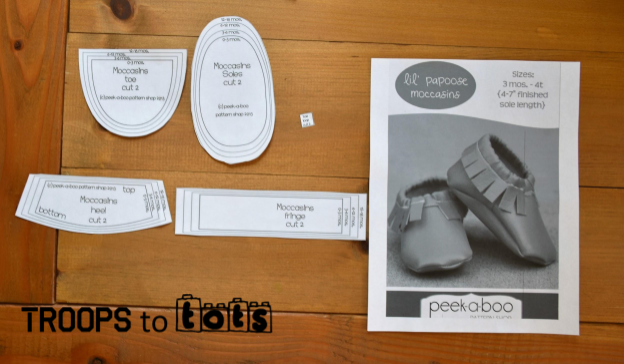 For step 1 when the toe loop is attached to the toe piece (as pictured below) make sure to leave enough room between the top and bottom topstitching to thread the elastic through.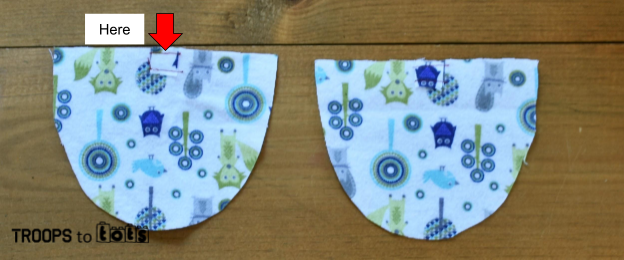 For step 2 mark the ½ inch as described in the instructions on the fringe piece. Also mark the centers for the heel and fringe pieces. This made lining everything up easier.

For step 3 and 4, again mark the centers of the pattern pieces. Try not to make sharp turns while sewing the curves, this will help create a smooth stitching line.
All done! That's it. This pattern was very easy and using flannel was a great confidence booster. By doing the muslin first here's what I learned that I want to change for next time.
Double stitch all stitching lines - I saw the amount of stress the flannel went through while on my son's feet and decided the seams will probably need reinforcement.

Redraft the toe loop. I want the shoes to look more like our purchased moccasins.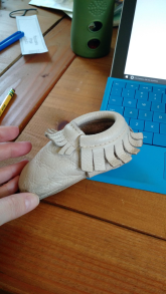 Next on my list is to use an old leather jacket as the material for another pair of moccasins! Have you made moccasins before, any advice to share?!