Continuing with the rainbow theme of our book recommendation for this month,"What Makes a Rainbow", my four-year old and I wanted to see if we could make a rainbow using red cabbage juice. Red cabbage has a molecule called flavin that reacts to acids and bases by changing colors. You can found out more about the science
here
. The idea for this science project came from a book called "
The Curious Kid's Science Book.
". It's an amazing resource to have and I highly recommend it.
For older kids who can understand the science behind this project I would recommend this
post
. It has a much more detailed supply list and goes into the chemistry. For my daughter we just focused on having fun. I also wanted Little E to physically be able to do the project, not just watch me do it, so we kept this project small and simple. In theory we wanted to see if we could create a rainbow.
Food processor - You can also use a mixer or boiling water to extract the juice from the cabbage leaves, see the website above recommended for the bigger kids for these instructions.

Strainer - sieve, paper towel or anything to remove the cabbage bits from the juice

Measuring cup - We used 2

Clear cups - We tested 9 household items

Pipettes - Droppers, spoons, or straws. Anything to move the item to be tested into the cabbage juice

Items to be tested - I let my daughter pick out what we would test!

Lemon juice (my daughter loves to eat lemons)
Put on apron and lay out table cloth. Cut up or rip about half the cabbage into large chunks and place in food processor with ½ cup water. Process for 30-60 seconds and check. If there appears not to be enough liquid add more leaves and water and continue to process. We used about 1 cup (just shy of 2 tablespoons for each item to be tested) to give you an idea of how much liquid you will need.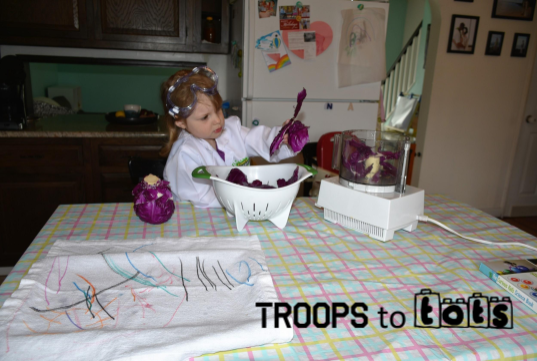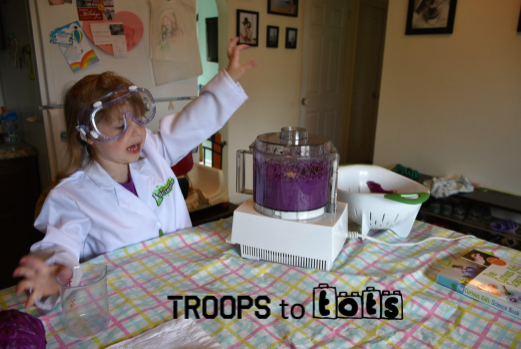 Place a strainer or sieve over a measuring cup (or bowl) and pour contents of food processor into strainer. Using a spoon or spatula press cabbage bits down to squeeze out juice. Throw the now offensive smelling cabbage bits away or compost.
Line up the cups. I measured the 2 tablespoons of cabbage juice into a smaller measuring cup my daughter could easily hold. She used this to fill up the cups. Once the cups were filled with cabbage juice my daughter decided the color was too dark purple and wanted to lighten up the color. We added an additional 2 tablespoons of water to each cup - I am sure this affected our test but we still got good results.
Prepare any items that are going to be tested (juice lemon and such). Place the item to be tested in a cup with cabbage juice and stir, sometimes we had to add more of the item to see a reaction - it just depended on what we were testing. Acidic items will turn the juice a red color, while basic (alkaline) items will turn the juice a green or blue color. If the color remains purple than the item is neutral in pH.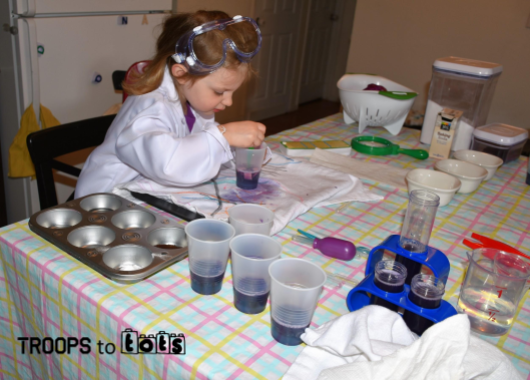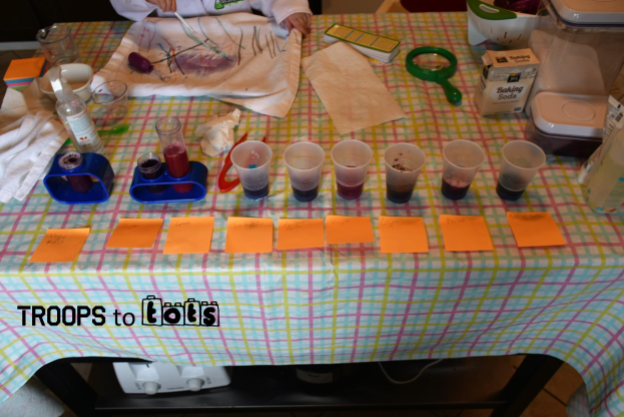 My daughter had fun with this project. We weren't able to make a rainbow but after this project she'll now randomly grab her science kit and declare that she is going to do an experiment. So I am going to call it a success anyway! I love watching her get excited about things! Let us know how you did.