This month our theme is "Green". If you have missed our previous explorations of what green means to us, check out our posts on making a
Family Growth Chart
,
Upcycling Boxes
for kids to play with, and a
St. Patrick's Day Craft
. This week I wanted to focus on how to save money on clothing our kids. There are two big ways my family saves money on clothes, one of which is through the generosity of donations from family and friends and the other is by shopping at thrift stores. We are immensely grateful to have both of these things, however we don't always get/find what we need.
Today I am going to be focusing on refashioning the clothes your children already have into things they can wear this upcoming season. To start, I go through each of my kid's closets and sort everything into four piles: keep, give away, trash, and refashion.
First thing on my daughter's clothing list is biker shorts. Little E goes through these in the summer like it's her job to destroy them. Luckily, she has a lot of leggings that still fit in the waist but are too short! Tomorrow's post I will go into how to refashion a pair of jeans into shorts.
Ballpoint or Stretch Needle

If using a double needle you'll also need tear-away stabilizer
Have the child try on the pants or use a pair of shorts that fit to measure where you want the hem. From this point add the seam allowance needed. If these are knit pants you don't have to worry about doing a double folded hem since the fabric doesn't fray. I measured a ⅞" hem so I have plenty of room to sew with a double needle.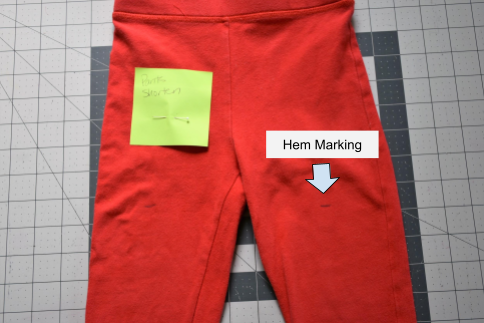 This next step can be done several ways, this is just my method! Matching the side seams, fold the pants in half. Match the waistband and bottom hem with lines on a grid cutting board (or anything similar). Ensure there are no folds or wrinkles in the legs. Using a straight ruler add the desired seam allowance, for me it was ⅞". Cut along this line, ensuring the pants' openings are still matching and there are no folds or wrinkles in the legs.
Ensuring everything is still matched up and wrinkle free, cut along the line just drawn.
Measure and fold under the new hem.
Prepare the sewing machine - I used a ballpoint double needle and walking foot. For the double needle, cut out several 1 inch strips of tear-away stabilizer, this will help with the bump that can occur between the two stitching lines. If using a single needle, set your sewing machine to a stitch that has stretch (either a stretch or small zig-zag).
Time to sew. This is my method for sewing hems in tight places - turn the shorts wrong side out, place the right side of the pants underneath the foot of the sewing machine with the stabilizer on the wrong side of the shorts (against the feed dogs). Stitch the new hem in place. I used the edge of my walking foot as my sewing guide.
Press the new hem (don't forget to use a pressing cloth).
That's it! You have now just saved yourself some money!